The plants you see growing in the large box near the Post Office are corn plants. More specifically, they are originally known as maize and the variety you see displayed here is an interesting one. It is called Painted Mountain corn and is similar to corn that the Native American people planted in colonial times. This particular variety was developed in Montana during the 1970's. The grower, Dave Christensen collected hundreds of varieties of native heirloom maize and used selective cross breeding to come up with this particular strain. Native Americans were cognizant of the need to find a grain that was resistant to drought, could thrive in warm temperatures with a short growing season, and would taste good as well as be easy to store and prepare. Using these needs as a blueprint, Mr. Christensen centered his attention on varieties that would carry these specific traits and the Painted Mountain corn was his final product.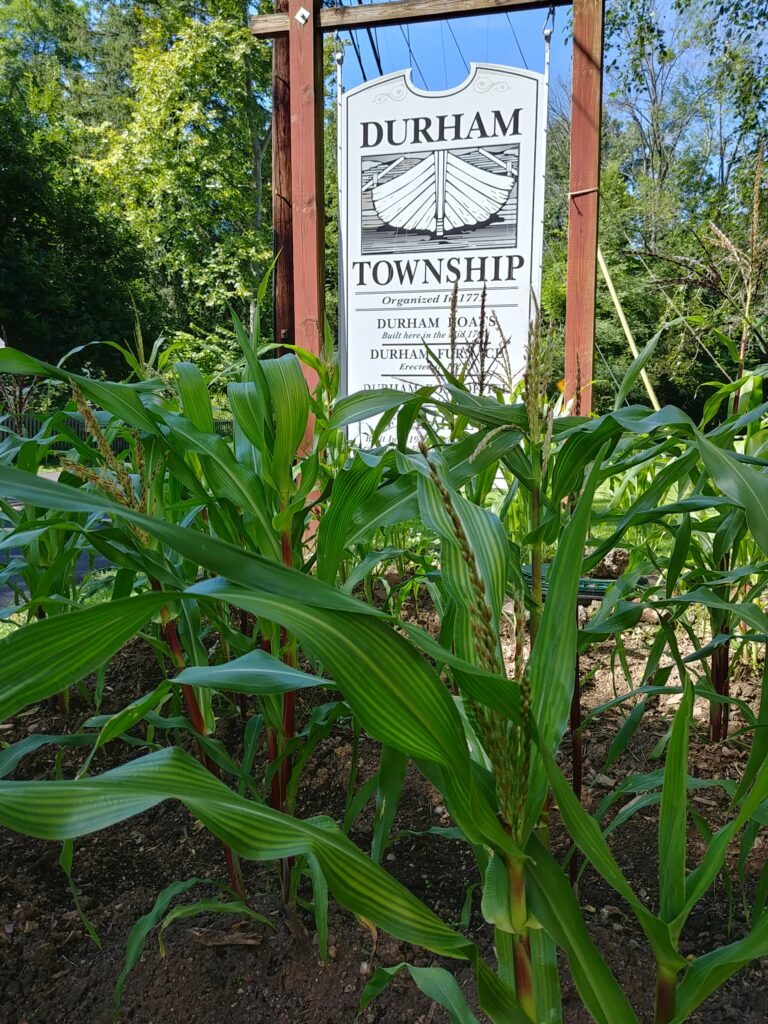 The corn was originally used for grinding into corn flour but was also used for parching, a process where dried corn kernels were slowly heated in a dry skillet until the skin splits and the kernel softens. This product could be cooled and stored for long periods of time or it could be enjoyed "as is" with a little salt and used for a snack.
Painted Mountain corn has small cobs that are multi-colored (maroon, white, red, purple, yellow and blue) and are slim. The cobs only grow to six or seven inches in length. The corn, when young, can be enjoyed much as we eat "sweet corn" since it does have a sweet corn taste. As the kernels mature however, the grain takes on a much starchier texture and becomes more suitable for grinding into a soft corn meal. Since the dried kernels have a thin seed coating, processing into this meal is very easy. Painted Mountain corn is considered to be one of the most genetically diverse varieties available today.
It is high in protein and carbohydrates and contains, phosphorus, potassium, and magnesium. The Native Americans were not aware of these details however but through the similar varieties they consumed, they were able to take advantage of these benefits.
Corn was one of the major crops that were processed here at the Durham Mill. Ground into corn meal, it became a staple of the colonial and early Industrial Age pantries and later it became an important ingredient in the animal feed that was processed here. In addition to the grain itself, because of the lack of "woodiness" in the stalks, the plants made a wonderful source of feed for animals.
Although this variety was not used at the mill, we thought because of its interesting and connected background with the Native Americans and the similarities that it shares with the types of maize grown in the 1700's and 1800's it would be a good display version. It is an accepted fact that the Lenni Lenape who lived in this area raised maize to supplement their diet and historical documentation speaks about a well-tended Native American corn field in the vicinity of the current Haupt's Bridge and Funk's Mill roads back in the 1700's.
The Native Americans used to plant beans and squash with their corn. The squash would shade out weeds and the corn stalks would support the climbing beans. Perhaps in the future we'll try to do the same. This year we do have a single old variety bean plant growing for demonstration purposes.