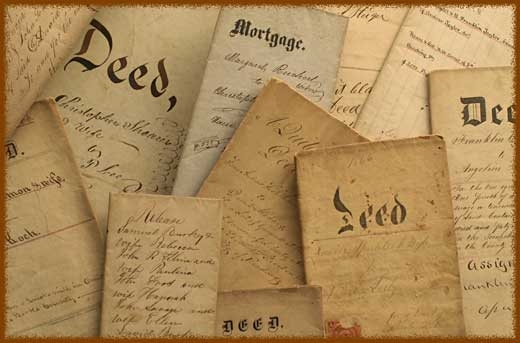 Please join the Durham Historical Society as it welcomes Dave Bretz providing a hands on workshop entitled The Good Deed. The workshop will be presented on June 24th at the Durham Mill from 11:00 a.m. to 2:00 p.m. A suggested donation of $10.00 would be appreciated.
Deeds are a valuable source of history. Whether we are performing genealogy or researching a particular building or property, deeds provide valuable information by telling us who lived where and when. Please join David Bretz, a licensed surveyor, as he provides valuable insight into deeds and how to use them in historical research. While we may have a general understanding of a deed many questions still abound. Dave will seek to answer these questions by examining how to understand, research and plot deeds. By understanding deeds, we can better interpret them in layman's terms. By researching deeds, we can connect people with land at a specific time. Research further allows us to join subsequent deeds in chronological order. Known as "chain of title", this collection of deeds provides a full history on a tract of land which can be traced back to its origins from William Penn. Dave will discuss how to locate deeds in County records as well how to research historic land documents at the State Archives. By plotting deeds, we can determine the shape of a parcel of land which helps us to find its geographic location upon the ground.

This will be a unique hands-on presentation\workshop for attendees and will provide step by step instruction on how to plot deeds. Dave will provide attendees all the tools needed along with personal instruction on how to plot deeds. Your participation is greatly encouraged. A rich history can be developed by connecting the dots of people with land and the good deed allows us to do this. Please consider joining us for this unique opportunity to understand and plot deeds.